There is a little-publicized conflict at Portland State University(PSU) brewing for the last few months. It all started when the newly founded PSU Board of Trustees decided it was time to deputize the campus police. The reasoning for arming the campus security was to enhance their ability to respond to sexual assault cases and handle the local homeless population. The plan was to have campus security train with the Portland Police Bureau (PPB).
Sounds reasonable--but take this into consideration. How will armed campus security handle sexual assault cases any better with their guns? There is already a long and ongoing history of authority figures consistently mishandling sexual assault cases. Victim blaming and even victim shaming habitually happens when police or campus security get involved. Firearms training could not possibly be of much help in such situations.
Then there is the homeless population, which makes up around 4000 people in Portland. Surely few of them have firearms. A portion of that population suffers from mental health issues and the PPB is known for causing more harm than good to people whose only crime is not having access to resources they need. Just in December of 2012 the United States filed suit against the city of Portland for its excessive use of force against people with mental health issues. Is armed security necessary for dealing with the homeless or is this the PSU Board of Trustees expressing their phobia of the poor?
With 40% of the student body being people of color, how would anyone feel safe at a campus with armed security around? Portland, although liberal, has a reputation for its law enforcement killing African youths. Just less than six years ago PPB officers tased then shot Keaton Otis 23 times because "he looked like a gangster". PPB also has members of white supremacist movements in its ranks, some of whom are in high positions of authority. This is the same agency that is training the campus security. Is the PPB the best choice for training campus security? Is human error or prejudice worth the risk just to have a false sense of security? Who does campus security really protect?
Having a force capable of responding or preventing school shootings is a justification for arming security. However, there is a flaw in that reasoning. An armed body will not and can not truly prevent violence. If anything it may attract an individual looking to commit suicide in the form of death by cop. A gunfight on a crowded campus would not be ideal. Someone going into a space they know is armed can just as easily prepare themselves for such a scenario. If being better armed was a real deterrent than the Amerikkkan revolutionary war would never had happened. Is there a case where having armed campus security saved lives because they were armed? Are such cases common?
The PSU Board of Trustees
The Board of trustees is made up of 13 citizens members selected by the Oregon Legislature on the 21st of November of 2013. The board was formed to be an independent volunteer administrative body. It was a response to Oregon's economic crisis and lack of funds. This was the state outsourcing its administrative responsibilities to the rich elites of Portland. A large portion of the members are from industries unrelated to education. Two of them you may recall from recent controversies.
There is
Margaret D. Kirkpatrick
, former VP of NW Natural. Her and her spouse
Rep. Earl Blumenauer were involved in a scandal to reduce the cost of cleaning up the Willamette. NW Natural has two facilities that are responsible for contaminating the river. Earl Lumenier had been advocating for measures that would reduce the cost to the companies responsible for the contamination.
Then there is Irving Levin, founder of Genesis Financial Solutions (GFS). GFS was involved in the Corinthians Colleges controversy. They serviced in-house loans that were predatory and had a 60% default rate. Much the money they were collecting came from federal aid.
Swati Adarkar
, CEO of Children's Institute
Erica Bestpitch
, Administrative COOrdinator for PSU
Gale Castillo
, Owner and President of Cascade Centers
Sho Dozono
, President of Azumano Travel
Maria Carolina
GOnzalez-Prats, Student Trustee on the PSU Board of Trustees
Maude Hines
, Associate Professor at PSU
Thomas J. Imeson
, Vice President of PR at NW Natural
Fariborz Maseeh
, founder of Picoco LLC, an investment management firm
Rick Miller (Karl R. Miller Jr.)
, Founder of Avamere
Pete Nickerson
,
Director & Co-founder at Growth-Link Overseas and Principal at Chinus Asset Management
Peter W.Stott
, President of Columbia Investments. Ltd
Christine Vernier
, Owner of Vernier Software & Technology
Wim Wiewel
, A non voting member of the board and President of PSU and owner of Wiewel Consulting
The Board's point man for security is
Phillip "
Phil" Zerzan
. He served 30 years in the Oregon State police and retired with the rank of Lieutenant. He formed and still a consulting firm called Phil Zerzan Consulting. Phil has tried to reach out to students but seems accustomed to people agreeing with him. His strength is in approachability but not in listening. Phil is confident that as long as he is in charge none of his guys will get out of line. So what happens when he retires? Will campus security "stay in line" if he is offered a better paying position elsewhere. He has made it clear that he would leave if he could find a better offer. He seems to not have much contact with board or Wim. Phil simply receives his orders and follows them. Phil also has a great need to be liked, hence his approachability. When one has been in a position of authority and treated with reverence by the public simply because you dawn a uniform symbolic of power, it could be easy to become convoluted.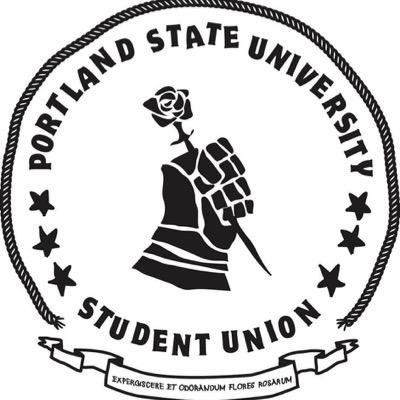 There is popular resistance to the arming of campus security. Some of it from outside organizations such as Black Lives Matter and Don't Shoot PDX. From within PSU there is the Portland State University Student Union (PSUSU). They have taken on most of the load in bringing awareness to Portland and their fellow students. Many of them, 60% women of color, have received threats of suspension or expulsion both directly and indirectly from the school administration and Board of Trustees for their political activities. PSUSU has been in the long fight against tuition increase and arming of campus security. They have also stood up for PSU Staff and faculty, protesting for the very people that make their education possible to have a living wage. PSUSU is not a student organization recognized by PSU but is organized and disciplined enough to have survived confrontations with PSU Board of Trustees.
Recently on campus, there was a rally for student supporters of Republican candidate Donald Trump. Several members of the student body came to protest, many of them part of PSUSU and other student organizations. Although the room was tense, no one was hurt. After the event many students, in opposition to the Trump supporters, received death and rape threats. Some threats you can even find on 4chan.com The PSU administration has made vague comments about the event but seems to be working hard to ignore the situation.
The Board of Trustees will take advantage of this situation. Administrative records may be left vulnerable. Already, information on students on campus is easy to access, but things may get sloppy. The Board of Trustees could indirectly create an incident that could be used to justify having armed campus security and eliminate any voices of dissent if not co-opt or silence them. It would be very important that people not part of PSU become aware and vocal about the situation on campus. Much of what has come about has been possible by either the ignorance of the public or the indifference of the citizens. Either way it is important that those of us not students of PSU support and protect our students and university. The motto of PSU is Doctrina urbi serviat—"Let knowledge serve the city". Maybe we as a city need to use our knowledge to serve the students. Guns and university makes for a very toxic mix. This city is not perfect but we do live here and we do have power. Get organized and get loud. Disarm PSU!